Coogee Beach, Eastern Beaches, Sydney
I had the opportunity to live on the Eastern Beaches of Sydney for a year and in that time I knew I had to shoot this area and shoot it properly. So I pretty much headed out each and every day, reading the sky and guessing which sunrises and sunsets were going to give me the best light.

I think in the time I had I got an impressive range of shots from the area. People say to me, "Wow you are so lucky with the light you get..." it's really comes down to dedication and persistence in doing something you love.
Coogee Beach Photoraphy Course
We offer full day landscape photographic courseson Coogee Beach to teach you the exact same skills and techniques that go into capturing the images you will find in our main gallery.
For more information and future dates click on the link below.
The Eastern Beaches Gallery
During 2011 we will be focusing on adding a wider range of images of Coogee to our main gallery.
We currently have 20 but there are some key and classic shots we want to add. So keep an eye on the Eastern Beaches gallery for more.

:: Click to check out the Eastern Beaches Gallery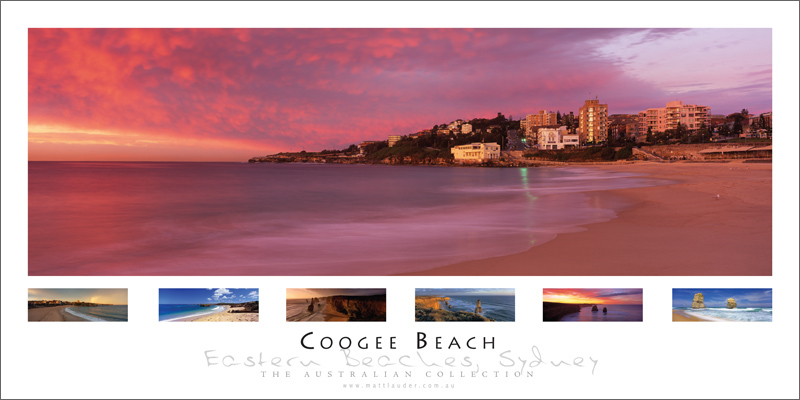 We have a great range of wall posters available and that collection includes this crazy sunrise captured over Coogee.