Maroubra Beach, Eastern Beaches, Sydney, NSW
I had the privilege of living in Maroubra for over a year and in that time I took advantage of every opportunity I had to capture the coastline around me. From my backyard when I stood on the outside table I could see through the rooftops to a small glimpse of the ocean / horizon and from this I was able to tell and predict a good sunrise. My collection over the months grew and grew and some of the shots I created especially of Maroubra Beach are my favorite.
Check out our Signature Frame
A slick looking brushed metal desktop frame that makes for an elegent gift for any occassion that can hold your favorite beach or maybe a location that you can get lost in or holds a special memory.
All photo's are titled and signed by hand, complete with its own giftbox and pricing includes freight.
The Eastern Beaches Gallery
Maroubra Beach is another beach of Sydney that has an interesting past just like Bondi, but without the worldwide fame. Located around from the main beach is the local ocean baths called "Mahon Pool" nestled in the sandstone.

:: Click to check out the Eastern Beaches Gallery
Bondi & Coogee Beach Poster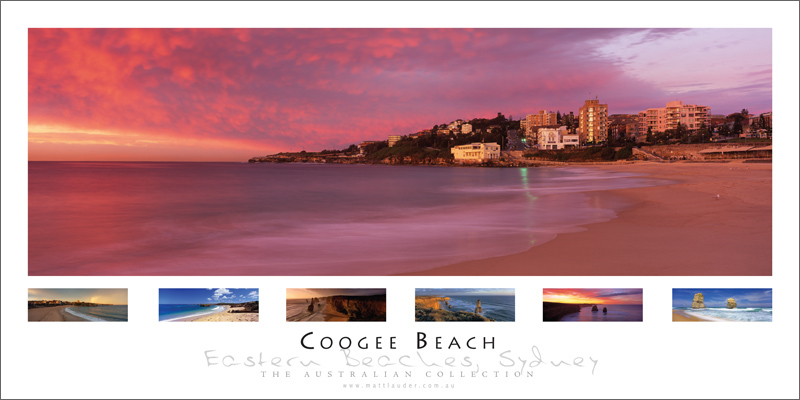 We have a great range of wall posters available and that collection includes posters of the Eastern Beaches coastline.