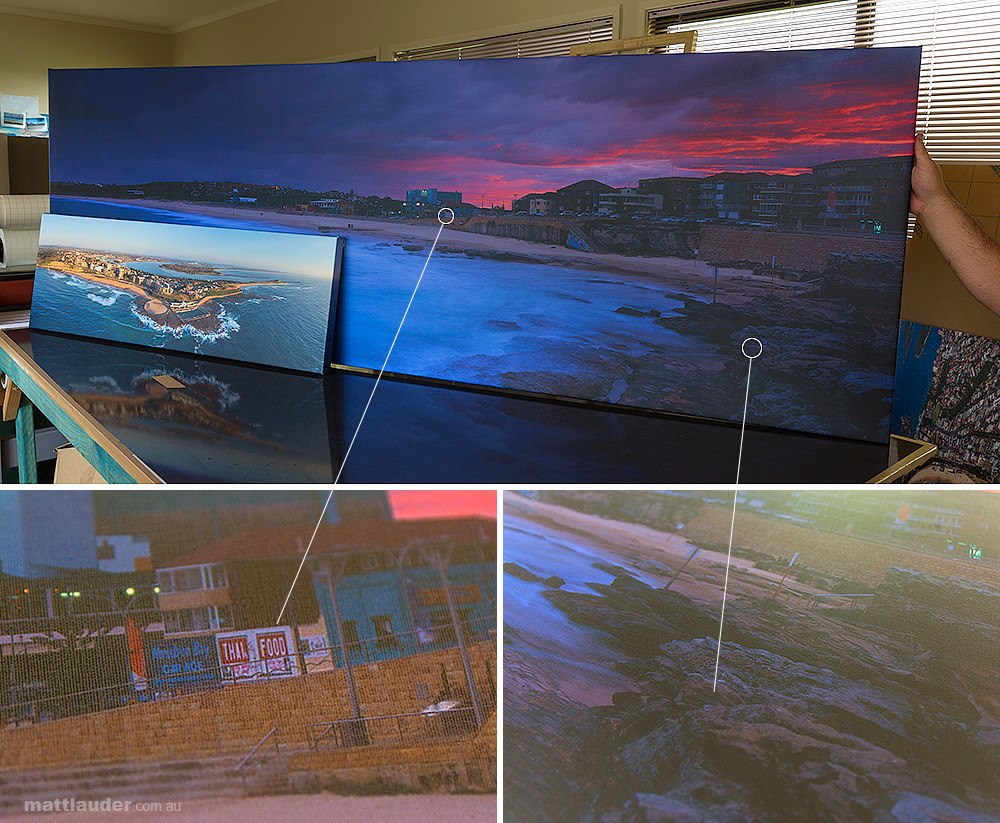 Maroubra Beach on Canvas
Above is a 2.3 meter (90 inch) wide photo of our Maroubra Beach photo printed with Canon's latest ipf8400 44 inch wide printer, on Museum grade canvas, then stretched on thick Australian renewable canvas bar with double bracing at the back for extra strength. We have pictured this canvas with a 1 meter wide (40 inch) photo of Newcastle, just to give you a size comparison.
When printing our photos large it's more about the detail you see in the photos, the little things that goes to making the photo special. It could be the detail on rocks, leaves or in this case being able to read signs on buildings. When someone gets up close and personal to our images when printed and their really staring they always end it with saying "I cant believe how clear the image is this big"….. Yep.
The reason why our images have so much detail is if the images are on film they are drum scanned to a high resolution, capable of amazing detail when printed even bigger than this. We can do a 3 meter wide panoramic image on canvas easily. Even our digital images have the same kind of ability for detail as we use professional level cameras and professional series lenses so the images are amazing.
What about your images on Canvas.
Our professional lab is also open to the public to use where they can take advantage of having their own images made to the same quality level. If you interested in this service we have a detail info page here on our canvas printing service. Or you can check out our full range at our labs website called Still Creations.