Manly Beach, Northern Beaches, Sydney
Welcome to our Manly Beach page of our website. Here you will find everything you need to know about what we can offer you of this area. On the right you can search for all our Manly Beach Photos. Though if you wanting photos of Shelley Beach or Queenscliff you will need to search for these areas separately.
My collection of work is from over 15 years of shooting along the Sydney to Newcastle Coastline and our Main Gallery boasts a collection of over 1700 high resolution, beautiful images. Though shooting the Northern Beaches is where it all started for me.
All our work is available in a range of products from Stretched Canvas, Acrylic Facemount (Glass prints), Photo only (rolled in a tube and posted), mounted photos and framed.
We have just released a beautiful Tasmanian Oak frame that is extremely popular and complements all of my aerial shots beautifully along with the landscape images as well.

Manly Beach in Summer Photos
Just like Bondi Beach is the most popular beach for the Eastern Beaches, Manly is this for the Northern Beaches. In summer their packed full of people and make for some amazing photos. On this particular day in December the high cloud and low cloud made for an amazing scene. Scenes like this can be equal too or even better than your most dramatic sunrise or sunset shot.
Manly Beach on Sunrise Photos
Over the years and years of shooting sunrise on the east coast of Australia is by far the best time to take photos, thats if you don't mind an early start. Manly is a great location for a sunrise shoot as you can stand anywhere on the beach and you are rewarded with the rising sun.
This shot of Manly looking towards the North Steyne Surf Club was shot in 2015 on a quick overnight stay in Sydney.
Manly Beach on Sunset Photos
Photographing some beaches on sunset can be challenging and Manly is one of them, unless you have some dramatic clouds the shots can be quite dark. This photo was taken a number of years ago and was a 2 minute exposure on film thats why the water looks so flat and the purple colours so vibrant.
Manly Beach Aerial Photos
One of the best ways to check out and appreciate the beauty of the local area and the beaches is from the air. Our collection of aerials of the Northern Beaches has been from three privately chartered helicopter flights where you shoot with the door off. Can take a few rides to get use to hanging out of the window but the results are amazing.
We have almost 50 aerial photos in our collection from Manly to Palm Beach. We have Manly Wharf, Queenscliff, Curl Curl, Freshwater Beach, Narrabeen, Collaroy, Mona Vale and more. To view all of them just click below.

Manly Beach Wall Posters
Located in our online shop is an extensive range of wall posters. We have a nice collection of posters of Manly and locations around the Northern Beaches.
All of our posters are printed to order on a thick, high quality paper making them ideal for framing. Our posters once printed are wrapped in tissue paper and then rolled and shipped in secure cardboard tubes.
Posters retail for $25 each.

Our Sydney Splendour Landscape Book
In 2013 we published our Sydney Splendour gift sized book that showcases the fantastic coastline if Sydney from Palm Beach through to Cronulla with key locations of the City, Manly and Bondi Beach (Sydney's two most popular beaches). The book features aerial images along with our classic crazy colour sunrise and sunset images.
The book is 64 pages in length, hard backed and only weighs 260 grams which means if your posting it locally or overseas it goes as a large letter rate when packed in one of those Australia Post padded bags.
Our Sydney Splendour books has been so popular that we are into our second print run already.
The book retails for $15 and is part of our Wildlight series of books. We also have books titled The Central Coast, Sydney Splendour and Sydney's Eastern Beaches. All books can be purchased in our online E Shop.

Our online Northern Beaches, Sydney Image Gallery
Our Northern Beaches online photo gallery hosts over 230 images of the area in all kinds of dramatic light from sunrise and sunset, to the crisp colours of the morning or a hot day in summer. We have a few surf shots along with a great collection of aerial images as well.
Our whole collection includes photos from the whole Northern Beaches coastline, including Little Manly Beach, Shelley Beach, Cabbage Tree Baths, The Spit and Balmoral Beach.
We are always working on adding new images and angles to our collection. If you have any requests for a location that is not there please let us know as there is nothing better than the advise of a good shot from a local.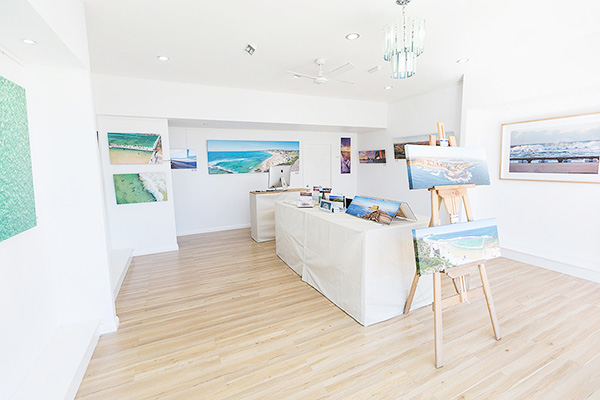 We Have A Gallery
We have a gallery in West Gosford on the Central Coast of NSW.
Our gallery showcases a wide range of work from the local area. In the gallery we have work on display and for sale that is Framed, on Stretched Canvas, Acrylic Face Mount (Glass) prints and also mounted.
Our gallery is also home to our own print and framing lab Still Creations that is open to the public.
Our Gallery address is:
Shop 3 / 6 Carnarvon Road, West Gosford, NSW, 2250