CRONULLA BEACH, SHELLEY BEACH LANDSCAPE PHOTOGRAPHY
Welcome to our Cronulla Beach photo page. Here you will find all you need about what we can offer you from this area. Our collection of Cronulla images are fantastic, so full of colour and life. Especially the aerials.
We have published a landscape book titled "Sydney's Eastern Beaches" which feature Cronulla. We have a range of posters and examples of work we have done for clients that feature our images of Cronulla in there here for you to see.

Cronulla Beach Sunrise
This is one of our popular Cronulla Beach photos that we have in the online gallery. People love it and it is always a pleasure to print and see. Shot on sunrise it is a really long exposure where the water looks like polished glass and the colours in the sky from the rising sun overlay each other.
Eastern Beaches landscape Photography Book
In 2014 we published our Sydney's Eastern Beaches book along with our book Sydney Splendour. The book has been very popular and it has many photos of Bondi and Bondi Icebergs in it. Even the cover of the book is an aerial photo of Bondi Beach.
The book is 64 pages in length, hard backed and only weighs 260 grams which means if your posting it locally or overseas it goes as a large letter rate when packed in one of those Australia Post padded bags.
The book retails for $15 and is part of our Wildlight series of books. We also have books titled The Central Coast, Sydney Splendour and Sydney's Eastern Beaches. All books can be purchased in our online E Shop.
Below is a full page walkthrough video of the book.
Our online Eastern Beaches / Cronulla Image Collection
Our Eastern Beaches online gallery is home to close to 300 high resolution images that are available in a range of products from Stretched Canvas, Acrylic Glass Prints, Framed and Photo Only. All images are hand titled and signed when printed as Photo Only or Framed.
We are always out and about shooting and adding new images to the gallery. Trying to find new angles or shooting the old ones trying to get the right kind or light or something different.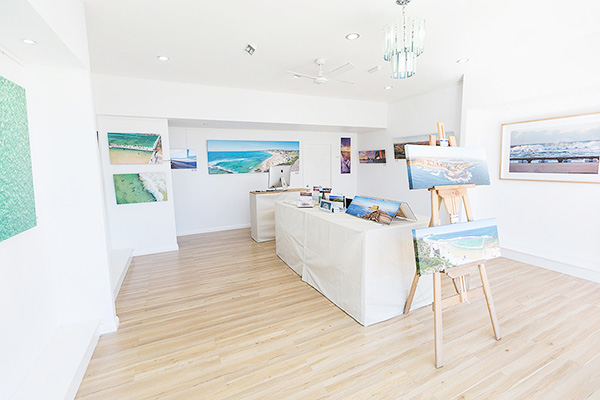 We Have A Gallery
We have a gallery in West Gosford on the Central Coast of NSW.
Our gallery showcases a wide range of work from the local area. In the gallery we have work on display and for sale that is Framed, on Stretched Canvas, Acrylic Face Mount (Glass) prints and also mounted.
Our gallery is also home to our own print and framing lab Still Creations that is open to the public.
Our Gallery address is:
Shop 3 / 6 Carnarvon Road, West Gosford, NSW, 2250