St Kilda Pier, Melbourne Landscape Photos
Welcome to our Newcastle Beach and Newcastle Ocean Baths page of our website. Here you will find everything you need to know about what we can offer you of this area. On the right you can search for photos of Newcastle Beach but if you wanted to see shots of Canoe Pool you will have to search for that separately.
My collection of photos of Newcastle span over 15 years of shooting in the area. Of all the sunrise and sunsets that I have shot my favorite images are those taken in summer when the beaches are packed with people. Over the last few years we have invested in shooting aerials from a helicopter and these images are just very popular with our gallery visitors and online shoppers.
All our work is available in a range of products from Stretched Canvas, Acrylic Face mount (Glass prints), Photo only (rolled in a tube and posted), mounted photos and framed. We have a gallery located in Warners Bay where all these product types and local images can be viewed.
We have just released a beautiful Tasmanian Oak frame that is extremely popular and complements all of my aerial shots beautifully along with the landscape images as well.

St Kilda Pier Black and White Photos
With the trips we have done to Melbourne the weather at times has been disappointing but the mood of an overcast day when you turn the image into a contrasty black and white image really packs a punch.
Newcastle Ocean Baths Photos
Newcastle Ocean Baths are probably one of the nicest baths along the NSW coastline, though it is ripe for a re vamp to bring it in line with the development in the area, but aside from that it is a great place to take photos at and also visit for a swim with the kids and if your kids are too small then the adjacent Canoe Pool is ideal.
We have some great aerial shots as well of the Baths and the Cowrie Hole.
St Kilda Morning Pink Hues
Canoe Pool would be one of those places that hold fond memories for parents with young kids. Such an ideal spot to take them on a hot day to cool off. Apparently under all the sand in the pool is a map of the world, not sure if this is an urban myth or something that is real.
We have many photos of canoe pool, this one especially on sunrise is fantastic when there was some local bush fire smoke in the air, gave the shot a really warm feel and diffused the sun perfectly. Our online gallery also has aerial shots of the pool along with some surf shots as well.
St Kilda Wall Posters
Located in our online shop is an extensive range of wall posters. We have a great and increasing collection of posters from the Newcastle area and this one is iconic
We print all of our posters on a thick, high quality paper making them ideal for framing. Our posters once printed are wrapped in tissue paper and then rolled and shipped in secure cardboard tubes.
Posters retail for $25 each. We also have a range of square posters of our aerial images and they retail for $40 and can be found in our online shop under posters.

Our online Melbourne Image Gallery
Our Northern Beaches online photo gallery hosts over 230 images of the area in all kinds of dramatic light from sunrise and sunset, to the crisp colours of the morning or a hot day in summer. We have a few surf shots along with a great collection of aerial images as well.
Our whole collection includes photos from the whole Northern Beaches coastline, including Little Manly Beach, Shelley Beach, Cabbage Tree Baths, The Spit and Balmoral Beach.
We are always working on adding new images and angles to our collection. If you have any requests for a location that is not there please let us know as there is nothing better than the advise of a good shot from a local.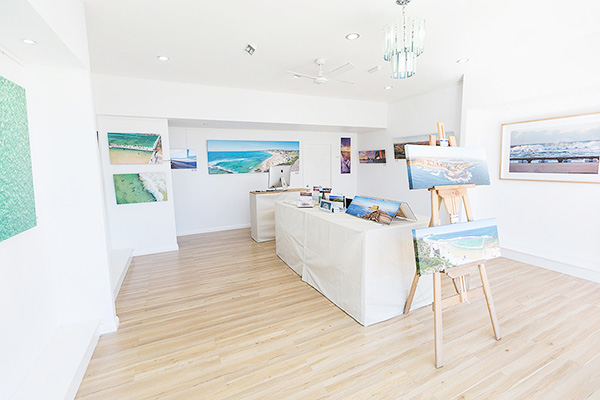 We Have A Gallery
We have a gallery in West Gosford on the Central Coast of NSW.
Our gallery showcases a wide range of work from the local area. In the gallery we have work on display and for sale that is Framed, on Stretched Canvas, Acrylic Face Mount (Glass) prints and also mounted.
Our gallery is also home to our own print and framing lab Still Creations that is open to the public.
Our Gallery address is:
Shop 3 / 6 Carnarvon Road, West Gosford, NSW, 2250

Where is St Kilda Pier, Melbourne