Sydney Harbour Bridge Photos - Our Collection
Welcome to our Sydney Harbour Bridge Photos page. Over the years we have photographed the Sydney Harbour Bridge in many different angles, times of the year like during vivid and light giving us a expansive collection of photos of this world wide icon.
All our images are high resolution and we can provide them either beautifully framed, printed and displayed on Acrylic, Stretched Canvas or as a photo hand titled signed and rolled in a tube. We also offer our aerial images as high resolution digital files (conditions apply).
We have just released a beautiful Tasmanian Oak frame that is extremely popular and complements all of my aerial shots beautifully along with the landscape images as well.


The Sydney Harbour Bridge from the Shangri La Hotel
Without a doubt the view from the Shangri-La Hotel looking over Sydney Harbour is a view you wont soon regret and the experience is well worth the admission price of the room. As a photographer the photos your able to get of the Sydney Harbour Bridge and Sydney Opera House are nothing short of amazing as you can see, especially if your lucky enough to get it on a stunning sunrise like this.

Sydney Harbour Bridge Black and White Photos - Harbour Bridge Climb
" The design of the Sydney Opera House was brought about in 1956 by a Government competition where the entrants had to design a two hall concert building. One for opera and one for symphony concerts. The winning design was by Denmark's Jørn Utzon's, who's design was rescued from a pile of rejected submissions.
In 1973 the Sydney Opera House was officially opened by Queen Elizabeth II and in 2007 was World Heritage listed being described in the report as "… it stands by itself as one of the indisputable masterpieces of human creativity, not only in the 20th century but in the history of humankind"
Extract of our Sensational Sydney landscape book page 10.


Sydney Harbour Bridge Sunrise Photos - Pink Dawn
The pink hues of a morning sunrise over a quiet Sydney City. No matter were you photograph in the city the Sydney Harbour Bridge more often than not will always be a key feature in all your images. Just like the Sydney Opera House it is a global iconic symbol of Sydney as a city in Australia. Our Sydney Harbour Bridge Photos in our Main Gallery range from beautiful black and white shots to crazy sunrises and soft sunsets.

Sydney Opera House, Sydney City, and Sydney Harbour Bridge Photos as a massive 75 inch framed in Black
Our customer wanted sometime amazing on his wall and after consultation they decided on a massive 75 inch wide photo of our popular black and white photo of Sydney City with the harbour side icons of the Sydney Opera House and Harbour Bridge. Printed on our Kodak Metallic paper and professionally framed in black shadowbox frame with a recessed mount the final result was ultra modern.
Sydney Harbour Bridge Posters
This Sydney Harbour Bridge Poster was shot on sunset over the Opera Bar. Which retail for $25 each.
Our panoramic poster range is 72cm wide and 36cm in height. All posters are printed to order, so they are brand new when delivered.
Printed on premium poster paper that is robust and can be handled.

Sensational Sydney Landscape Photography Book
Sensational Sydney - Landscape Photo Book
In 2013 we published our Sydney Splendour gift book that showcases not just the city but the amazing coastline that Sydney has to offer. With images from Palm Beach in the north to Cronulla in the south with a focus on Sydney's tow most popular beaches, Manly and Bondi. The books features Sydney Opera House Photos and Sydney Harbour Bridge Photos along with wide angle shots of the city as well with these icons as a feature.
The book is 64 pages in length, hard backed and only weighs 260 grams which means if your posting it locally or overseas it goes as a large letter rate when packed in one of those Australia Post padded bags.
Our Sydney Splendour books has been so popular that we are into our second print run already. For a visual walk through of the book you can watch the video below.
The book retails for $15 and is part of our Wildlight series of books. We also have books titled The Central Coast, Sydney Splendour and Sydney's Eastern Beaches. All books can be purchased in our online E Shop.


Sydney Opera House
You cant mention the Sydney Harbour Bridge and not make an honorable mention of the Sydney Opera House on the same page. This is a photo taken from the overseas terminal during the day. Makes for an impressive black and white photo.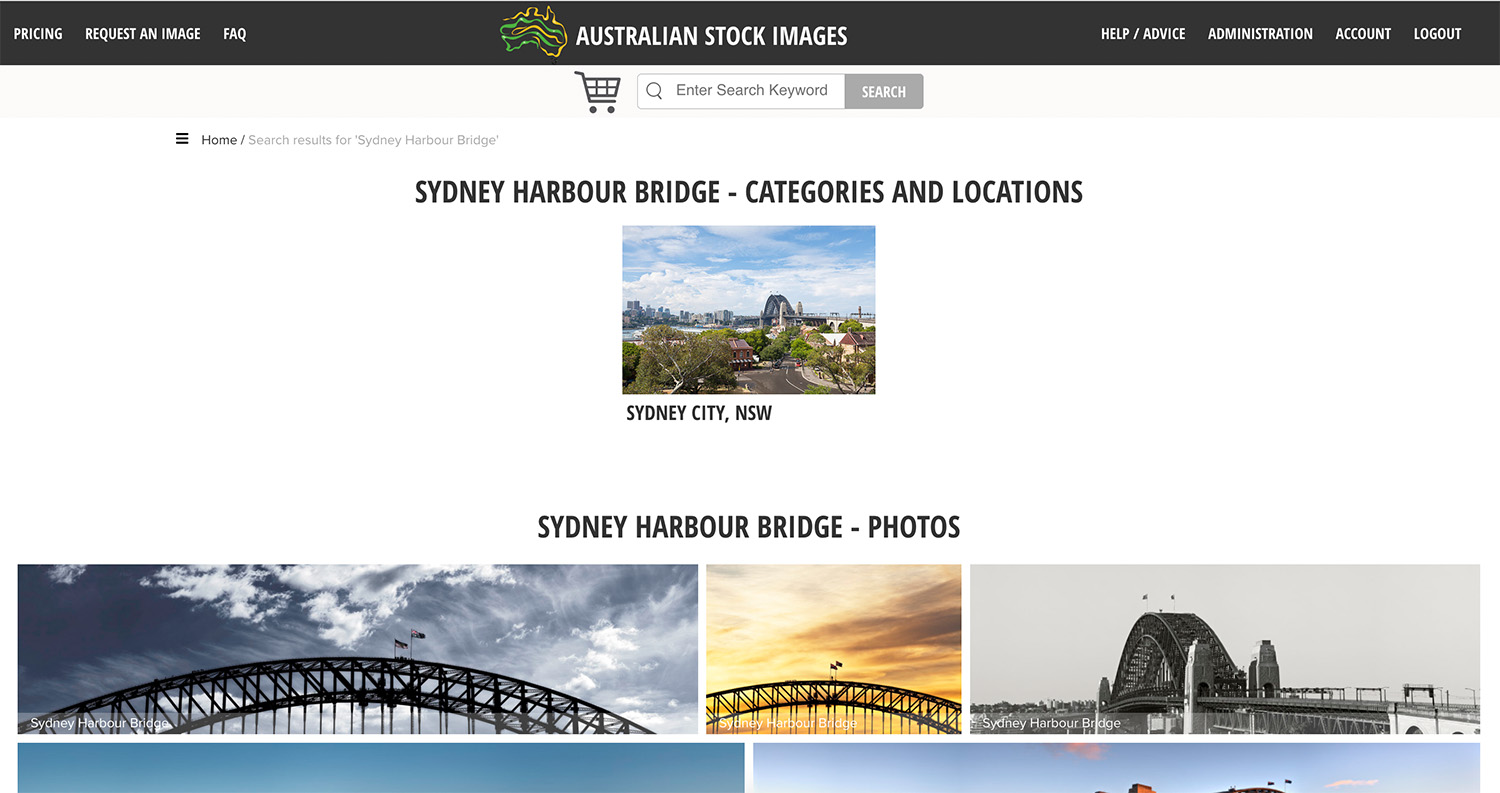 Sydney Harbour Bridge Photos - Stock Imaging - Royalty Free Download
If your looking for high quality Sydney Harbour Bridge photos to use in your next online or print project our Australian stock photography website can help you out. We have an extensive range of images of Sydney including the Sydney Opera House, Sydney Harbour Bridge and surrounding area available for immediate download and royalty free license.
To view our range of Sydney Harbour Bridge Photos and more check out the Australian Stock Images Website.