Merewether Baths
Both Merewether Beach and the Merewether Ocean Baths have been a popular location for me over the last 20 years as a photographer. If you're after a photo of Merewether Beach or Merewether Baths with pink tones, red, golden, blue, purple etc then I have it. I have been so lucky with the light I have been able to capture down there, but sometimes the simplest of colours and shots are the best and peoples favourite.
My range of photos comprises of shots taken at sunrise and sunset and during the day. I have also done private charter helicopter flights and got some truly amazing directionally down shots of the baths that are really abstract and make for a great feature in a house on a modern sub straight like acrylic face mount (glass prints).
In 2012 I published Newcastle's first landscape photo book and within a year it had to be reprinted due to its success and demand by the Newcastle locals and international visitors who also loved Newcastle.

Merewether Baths Wall Poster
Located in our online shop is an extensive range of wall posters. We have a great collection of posters from the Newcastle area with several of Merewether Beach and the MerewetherOcean Baths.
All of our posters are printed to order on a thick, high quality paper making them ideal for framing. Our posters once printed are wrapped in tissue paper and then rolled and shipped in secure cardboard tubes.
Posters retail for $25 each.

Our Newcastle Landscape Book
As we mentioned above briefly in 2012 we published Newcastles first and only landscape photography book. The book has photo's from the whole Newcastle area from Nobbys to Redhead.
The book is 64 pages in length, hard backed and only weighs 260 grams which means if your posting it locally or overseas it goes as a large letter rate when packed in one of those Australia Post padded bags.
Our Newcastle books has been so popular that we are into our second print run already.
The book retails for $15 and is part of our Wildlight series of books. We also have books titled The Central Coast, Sydney Splendour and Sydney's Eastern Beaches. All books can be purchased in our online E Shop.

Framed Landscape Photos of Merewether Ocean Baths
Over the years we have printed and framed our work in all sizes and shipped them all around Australia and the world. In 2016 we launched our Tasmanian RAW oak frame and it complements all our work perfectly and is extremely popular.
We also offer our work in other frame types such as White, Black, Brushed Silver and a Dark Mocha. To view our work with these frame types we have an interactive framing option feature that's on all our image pages.
The framed photo here of Merewether Baths (NEW149) is a 40 inch wide photo in the Tasmanian Oak. The photo is printed on Kodak Metallic paper, mounted to Aluminum, Archival white matt, we use optical grade acrylic instead of glass for safety and then framed in Tassy Oak. Finished size is 125cm x 63cm. RRP $520.

Our online Newcastle Image Gallery
Our online Newcastle Photo Gallery showcases over 320 images of Newcastle and the surrounding area like Lake Macquarie taken over the last 15 years. We have shots when the Newcastle Beach coastline had the old hospital and we have it with the new as well. When the Pasha Bulker hit Nobbys Beach in 2007. All your favourite local beaches especially Merewether Beach and the Ocean Baths.
We have extensively shot all your local beaches in all kinds of weather and have such a range of colours to suit any wall or decor. Over the last few years, we have done aerial photography as well and got some stunning results from shooting straight down over the beaches.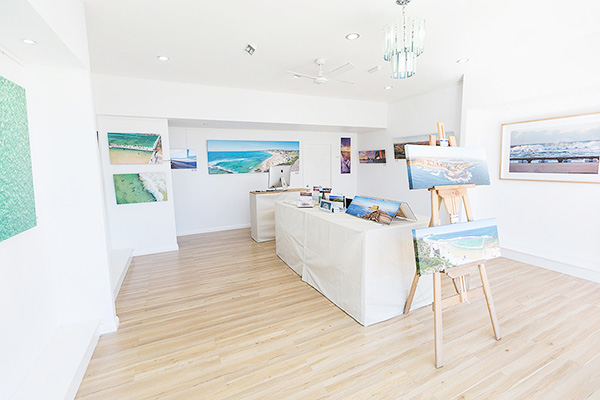 We Have A Gallery
We have a gallery located in West Gosford on the Central Coast of NSW.
Our gallery showcases a wide range of work from the local area. In the gallery we have work on display and for sale that is Framed, on Stretched Canvas, Acrylic Face Mount (Glass) prints and also mounted.
Our gallery is also home to our own print and framing lab Still Creations that is open to the public.
Our Gallery address is:
Shop 3 / 6 Carnarvon Road, West Gosford, NSW, 2250

Where is Merewether Baths