Northern Beaches Aerial Landscape Photos
Welcome to our Northern Beaches Aerial Photography page. Here you will find a range of information about our aerial images. All of our aerial shots are taken from privately chartering a helicopter (not from a drone) and shooting with the doors off. Yes, it does take a few trips to get use to hanging out of a doorway 1000 feet in the air, but it is exciting.
Our Northern Beaches Aerial image collection is the result of three flights over the area during the peek of summer when the water is amazing and the beaches are packed full of locals and tourist making the most of our Aussie summer in the sun.
All our images are high resolution and we can provide them either beautifully framed, printed and displayed on Acrylic, Stretched Canvas or as a photo hand titled signed and rolled in a tube. We also offer our aerial images as high-resolution digital files (conditions apply).
We have just released a beautiful Tasmanian Oak frame that is extremely popular and complements all of my aerial shots beautifully along with the landscape images as well.

North Curl Curl Ocean Baths Aerial Images
Forget trying to shoot surfers or beaches packed with people, sometimes capturing something simple as a beaches local ocean baths from the air is beautiful.
We have a number of shots like this in the gallery of Northern Beaches Ocean Baths, our Freshwater Ocean Baths shots are like this, so is our South Curl Curl and Mona Vale, we also have a few of Queenscliff and Dee Why.
Shelley Beach, Manly Aerial Photos
Shelley Beach is one of those local beaches that are a decent but pleasurable walk from Manly. The car park area is limited so the beach is never really that packed as the open sands of Manly are where most tend to be content with. In our online gallery we have a nice collection of aerial shots of Shelley Beach.
Another nice shot we have is this one where it is more of a close up of people swimming around in the water, including a group of divers, which you always see down there.
Backwash, Freshwater Beach
Freshwater Beach is a fantastic beach to shoot from the air. The beach has a very shallow shore line and when the sets roll in you get a great effect in the water. In this particular photo the surfers are sitting out the back of the shore break and the plume of sand is from the sets breaking and lifting the sand up.
Grabbing shots like this are what make your chopper flight worth while as their unique and a one off. This is a popular photo in our online gallery and we have shipped all over Australia and to some expats in the UK and US who wanted a bit of home on the wall.
Manly Beach Aerial Images
Check out this photo of Manly Beach taken from about 1000 foot up. (When your in a helicopter the minimum height you must be over a populated area, over the sea it's 500 feet and you can get permission to go lower). Anyway see all the circles in the sand on the beach… these are the sand castles / forts kids make and spend hours playing in then come the end of the day their left for you to walk in when your out for your evening walk on the beach when everyone has gone home. 🙂
We have printed this shot large for a local and mounted it to acrylic, the details is really something. Especially when the photo is on our metallic paper.

Freshwater Beach Aerial Wall Poster
Located in our online shop is a growing range of wall posters that are made up of our great collection of aerial photos of the NSW and WA coastline.
All of our posters are print to order on a thick, high quality paper making them ideal for framing. Our posters once printed are wrapped in tissue paper and then rolled and shipped in secure cardboard tube.
Posters retail for $40 each.

Our Sydney Splendour Landscape Book
As we mentioned above briefly in 2012 we published Newcastles first and only landscape photography book. The book has photo's from the whole Newcastle area from Nobbys to Redhead.
The book is 64 pages in length, hard backed and only weighs 260 grams which means if your posting it locally or overseas it goes as a large letter rate when packed in one of those Australia Post padded bags.
Our Newcastle books has been so popular that we are into our second print run already.
The book retails for $15 and is part of our Wildlight series of books. We also have books titled The Central Coast, Sydney Splendour and Sydney's Eastern Beaches. All books can be purchased in our online E Shop.

Our online Northern Beaches Aerial Photo Image Gallery
Every time summer comes around going up in a helicopter and shooting the Sydney coastline is a must for us. Our on line gallery collection of images is after doing three successful trips in the peek of summer. While up in the air you look around for unique shots in the air of people surfing or doing something in the water. Or interesting shots of people enjoying the summer and getting into the water.
Different beaches have different types of sand and water depths which give a different colour and contrast. Even the tide height can change the look and feel of what your photos will come out.
Our Northern Beaches online collection of images include aerials of Balmoral to Shelley Beach, Manly through to Freshwater, South and North Curl Curl, Collaroy, Narrabeen, Mona Vale and Palm Beach.

Eastern Beaches Aerial Photo Image Gallery
If you love our Northern Beaches collection of photos you will love our Eastern Beaches collection as well. We have over 70 aerial images from Rose Bay, Watsons Bay, Hornby Light House down to Bondi (of course), Tamarama, Bronte, Clovelly, Coogee, Gordons Bay, Maroubra and Cronulla.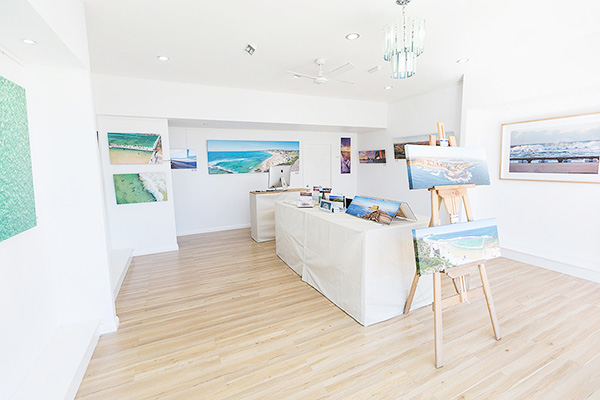 We Have A Gallery
We have a gallery in West Gosford on the Central Coast of NSW.
Our gallery showcases a wide range of work from the local area. In the gallery we have work on display and for sale that is Framed, on Stretched Canvas, Acrylic Face Mount (Glass) prints and also mounted.
Our gallery is also home to our own print and framing lab Still Creations that is open to the public.
Our Gallery address is:
Shop 3 / 6 Carnarvon Road, West Gosford, NSW, 2250