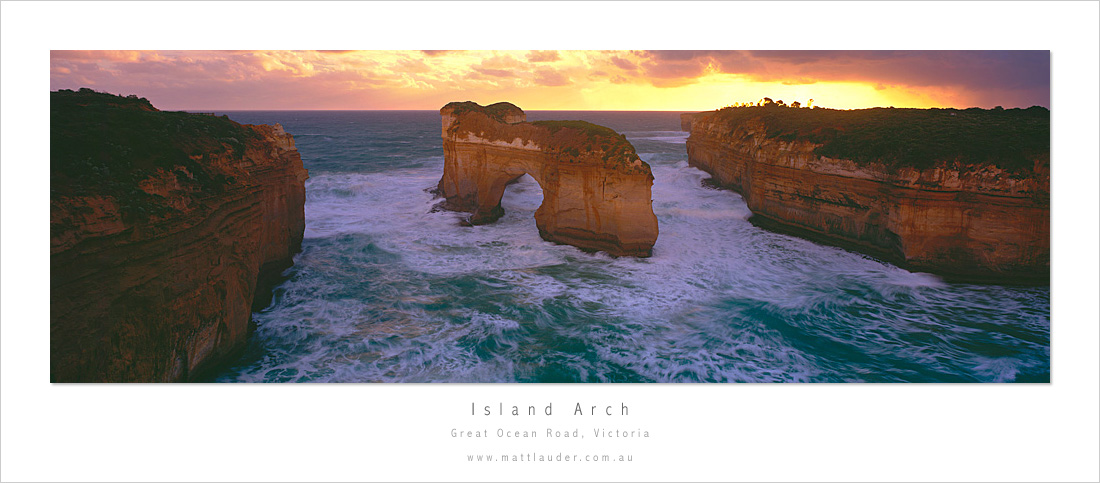 Over the last week on and off I have been looking through my work and processing some of the shots again. 90% of all my film shots on my site would have less than 2 min of actual photoshop editing, mostly just a curves adjustment here and there and a selective colour adjustment layer.
With the introduction to my work flow of complex luminosity masks and alike I can look at some of these shots that are good but can be made a whole lot better with a more constructed workflow applied to them. This shot of Island Arch on the Great Ocean Road was one of those shots that really came through.
The starting point for this shot wasnt photoshop it was in how it was scanned. Just a single scan wasnt enough so what I did was scan the tranny twice with the Imacon 343 scanner. First scan to get the best detail in the sky, second scan to get the most detail out of the foreground and sandstone rocks. No different really than double processing your RAW file twice as a smart object. So if you use me to scan your film keep this in mind as this can be done.
Once these two images are masked together then you get started on the rest.
Over the weeks ahead I will be processing more of these kinds of shots from my site and displaying them on my facebook page with a description on what I have done. Might even post some before and after shots on there as well.
CLICK IMAGE FOR LARGER VIEW