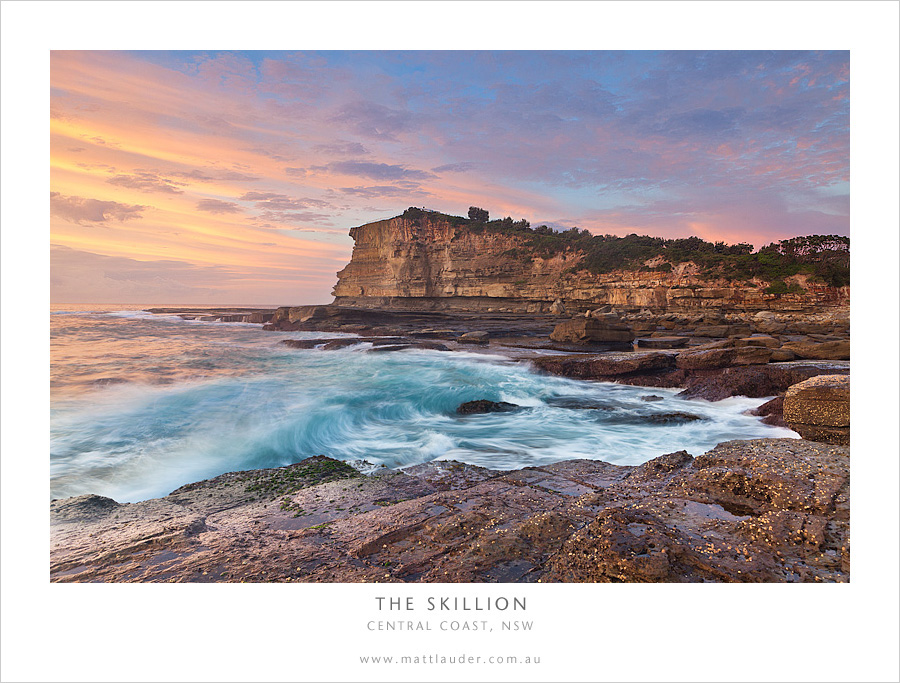 This was the beautiful sunrise that greeted us yesterday morning (27th March 2012) down at the popular shooting location on the Central Coast called the Skillion. I was teaching a local photographer Shane and we made the decision to do a sunrise course which if the light is right, they are the best as you can see why. Shane had my 17-40mm on his 7D and my Lee Filter system and remote, so I set up next to him with my 24-70mm and snapped a few images as exposure brackets to show how you can do it without the use of filters. (I used Shane's camera setting as my base as he had perfected his exposure with his histogram, just as I had shown him, nice one.) I used the camera on a 2 second timer so the 5D MkII took the images one after the other so I didn't have to touch the camera which is important for blending later on.
So this image was a three shot exposure blend with a 2/3rd stop variance between them and then blended in Photoshop using luminosity masks that targeted various tonal ranges.
Full details on my range of group and private courses can be found here. Where I teach you to take images just like this, focusing on using your histogram to perfect exposure, the composition of your image in terms of light and shutter speed, various shooting methods and techniques, digital panoramic's and more.