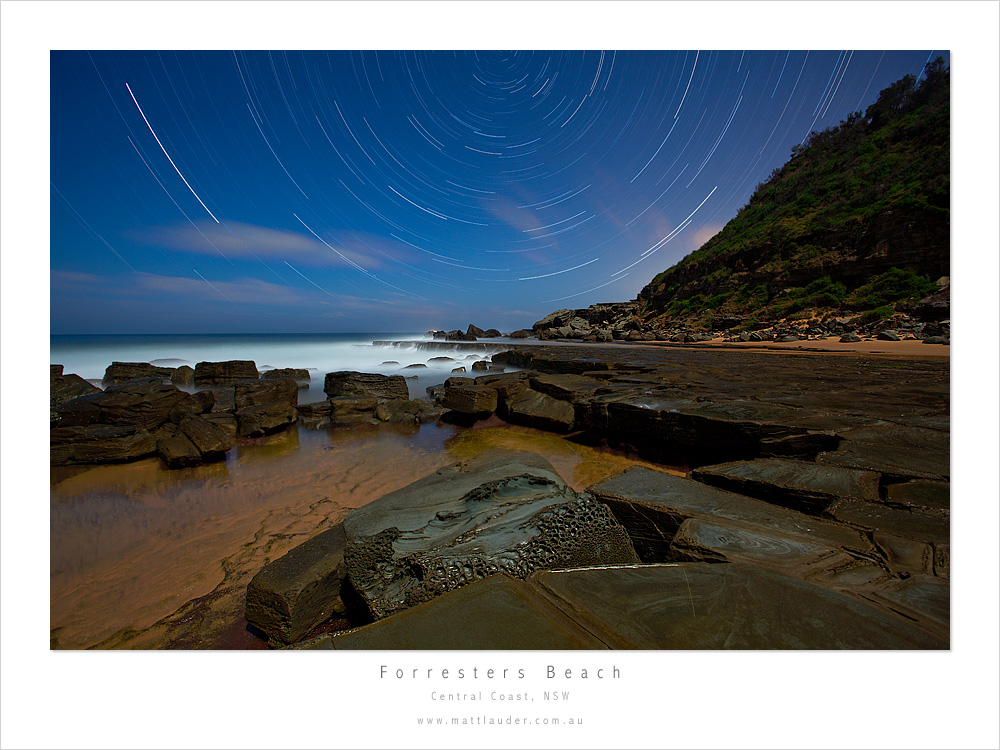 Sat back all day thinking where on the Central Coast I could go too do a nice star trail where I can stack the images to really see the result and the only place that comes to me is Forresters Beach. I am sure you lot are sick of seeing this place but hey it is so fantastic to shoot.
So this shot is done under a 90% illuminated moon. (Waxing). It is a series of shots taken over about an hour and a half and ended up being a 23 image stack. Kind of wished I had of done another half hour to extend the star a bit more but the cold slowly crept in and froze me. I'm so over Winter. When I got there it took me about 40 min to find a composition I liked and then it was a case of set it up, dial the settings into the Canon intervalometer remote, pull out the PSP sit back and watch a movie while the camera does it's thing.
Putting the final series of shots together is pretty simple it is just a series of processes that are repeated. So I have done a full post production video tutorial from start to finish on how this image was put together. I go through and create several actions in photoshop to streamline the processes to save time blending the star shots together and getting the files ready for stacking. I will go over my capture settings as usual and also the focus method.
The tutorial goes for 19 min 14 sec and is listed under " After Dark " on the Rubbing Pixels website and is available for " Members Only ". You can view the tutorial by clicking here.
CLICK THE IMAGE FOR A LARGE VIEW