Sydney Opera House
" The design of the Sydney Opera House was brought about in 1956 by a Government competition where the entrants had to design a two hall concert building. One for opera and one for symphony concerts. The winning design was by Denmark's Jørn Utzon's, who's design was rescued from a pile of rejected submissions.
In 1973 the Sydney Opera House was officially opened by Queen Elizabeth II and in 2007 was World Heritage listed being described in the report as "… it stands by itself as one of the indisputable masterpieces of human creativity, not only in the 20th century but in the history of humankind"
Extract of our Sensational Sydney landscape book page 10.
OUR WEBSITE HAS OVER 2000 BEAUTIFUL AERIAL AND LANDSCAPE PHOTOS FROM AROUND AUSTRALIA THAT ARE PRINTED AND FRAMED IN OUR OWN LAB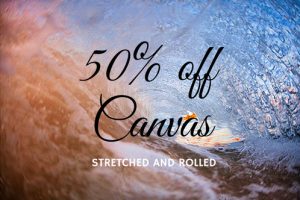 Half Priced Canvas - 50% Off
This has been one of our long standing specials that we are happy to keep extending as since in housing all our photo production we can really offer customers a superior product at a great price.
This special is for both Stretched Ready to Hang canvas and also canvas rolled in a tube so it can be posted and stretched locally. Remember our rolled canvas has free world wide postage.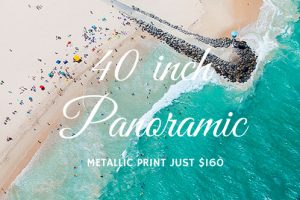 40 Inch (1 Meter wide) Metallic Photo Special
Printed on the beautiful metallic Kodak Professional paper we offer a 1 meter wide (40 inch) panoramic photo for just $180. The usual price is $360, that's another 50% off special.
All photos are hand titled and signed by Matt. Rolled in acid free tissue paper and come with instructions for you to give to your selected framer.
With this special customers can also choose a free 60cm (18 inch) wide panoramic photo of any image in the gallery and we will also post your order free anywhere in the world. All items posted are insured.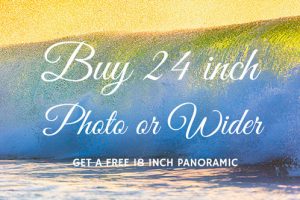 Free 18 inch Panoramic Photo - Buy any 24 inch wide photo or larger
If you purchase any photo on the site that is 24 inches wide or wider you can select any 18 inch wide panoramic photo in our collection for free.
All specials on the website are available at the time of purchases. So please don't forget to add the free 18 inch photo into your cart prior to checkout. The free 18 inch photo special is only honoured if the customer purchases a product that meets the special.