Eastern Beaches
Our Eastern Beaches collection of aerials are the result of four helicopter flights. Three in summer and one on sunrise, which was a memorable experience to watch the sun breach the horizon while 1000 foot in the air.
The colour of the water along the Eastern Beaches surprisingly enough is quite different to that of the Northern Beaches. The Northern Beaches sand is a lot more yellow. Some of our best shots in summer have come from Bondi Beach. An amazing shot was our one called "Bondi Paddleboarder" where it was a single shot that was taken when the lone paddle boarder was seen out the corner of Matt's eye when doing a pass near the Bondi Iceburgs. We recently printed this photo as a 60 x 40 inch photo and framed it in our Tasmanian Oak frame, the final result was amazing.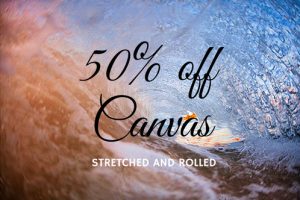 Half Priced Canvas - 50% Off
This has been one of our long standing specials that we are happy to keep extending as since in housing all our photo production we can really offer customers a superior product at a great price.
This special is for both Stretched Ready to Hang canvas and also canvas rolled in a tube so it can be posted and stretched locally. Remember our rolled canvas has free world wide postage.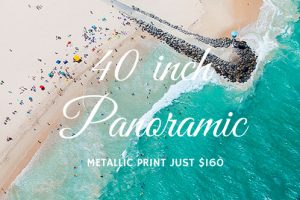 40 Inch (1 Meter wide) Metallic Photo Special
Printed on the beautiful Chromajet Metallic Professional paper we offer a 1 meter wide (40 inch) panoramic photo for just $180. The usual price is $360, that's another 50% off special.
All photos are hand titled and signed by Matt. Rolled in acid free tissue paper and come with instructions for you to give to your selected framer.
With this special customers can also choose a free 60cm (18 inch) wide panoramic photo of any image in the gallery and we will also post your order free anywhere in the world. All items posted are insured.